Welcome!
Promotional Products
Promotional Items are used by virtually every business. Items like mugs, pens and t-shirts are memorable and provide a better cost per impression for advertisers than other major marketing efforts. Because promotional items ate tangible and useful to the recipient, they are kept long after other elements of a marketing campaign may have been forgotten.
Matrix Print & Promo can supply you with every possible promotional item from over 4300 suppliers. Regardless of your promotional or apparel needs, we have the industry experience and expertise to provide you with the most comprehensive and cost effective solutions designed to fit your timetable and budget. Our attention to detail, quality control and outstanding customer service combine to ensure that we meet or exceed your expectations.
Screen Print / Embroidery
Embroidery and screen printing are the two most popular methods for customizing apparel.Embroidery gives more of a high end look as screen printing gives a more relaxed and casual appearance. Whether you need apparel for your business, school, event or organization we have you covered. Our commitment is to provide you with high quality embroidered and screen printed merchandise at a competitive price.
Featured Item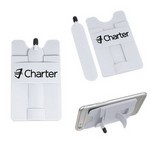 3 in 1 Smart Wallet
This multifunction cell phone wallet, stylus and phone stand is made of silicone and contains slots to hold credit cards, ID cards and cash (holds up to 3 cards securely). Convenient 3M adhesive backi...
$1.60 - $1.75